Driving of collector
Driving of collector with the jet grouting protection - Prague
| | |
| --- | --- |
| Contractor: | BENDA TRADE s.r.o. |
| Client: | Metros s.r.o. |
| Site: | Václavské náměstí, Praha 1 |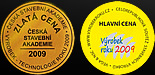 CONSTRUCTION SPECIFICATION
Division 1, in association with Subterra a.s, provided building works for a collector C I.A on Vodičkova street, Prague 1. Metrostav constructed the part from Wenceslas Square, through Vodičkova street, up to Palacky street and V Jámě. The driving conditions were extraordinarily difficult, due to the site location in the city center, as well as to the given geological conditions. The driving was performed mostly on a gravel terrace of various grain compositions, in the deepest parts in the area of the Wenceslas Square transitioning to bedrock. In this part of the site there are substantial groundwater affluents. For the reasons stated above it is a high-risk project which was treated with ultimate attention.
The cellular confinement system (geocell), 100 mm (4 in), 150 mm (8 in), and 200 mm (8 in) deep, was used for travel of heavy machinery while driving collector underground.
Please contact us for further technical information about this construction.